"Our Church
Our Responsibility!"
In 2015 it cost us £514 per week to run St Andrews.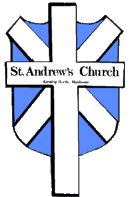 You Did it We have paid our 2017 share without using any of our emergency savings. Congratulations to everyone.
But always remember:- No share, No Priest, No St Andrew's. Think on't.
Our Current income Averages at £409 per week.
Comprising:
Direct Giving via the envelope scheme or Direct Debit.
Tax Recovered by Gift aid £102
Cash Collections
The donations in the collection plate.
Fundraising
Fetes, Social events and the monthly 'Bring and Buy'.
Outgoings
In 2018 it cost us £648 per week to run St Andrews. For 2019 it will increase to £686 per week.
The difference between what we recieve and what we need is now about £239 per week. i.e. £5.20 extra for each person on the Electoral Roll. Less if those who come to church but are not on the Roll increase their giving ( and "Gift Aid" it). So the time has come for us to prayerfully review our current giving and see whether a change is possible or, for that matter, neccessary due to a downward shift in one's resources.

I took on duties
When I got married that I did not have when I was single… Provision of a home, partnership in the raising of children, contributing to the shared costs of living together. Council tax, utility bills, some of which were items that I did not actually use but accepted as part of my new life.

An Ongoing responsibility
In the same way stewardship is a task that I took up when I became a member of the Church. I contribute a share towards the costs of the greater family of which St Andrews is a part.


It is relatively cheap
Compared with other things in this material world. For instance:
A Sunday newspaper costs about £1.90 and occupies me for about 1 hour, including the crossword. A trip to the cinema costs £8.50 for a two hour film, popcorn excluded, and a £10 Easter Egg was demolished by my granddaughter in 30 seconds flat! Although I must admit that 75% of the cost of the egg must have been wrapping destined for the bin anyway.

Sorry, the rant about unneccessary packaging will have to wait for another time.

I am prepared to spend
those sums on ephemeral items then why does it seem so hard to spend a comparable sum on sharing God's love with my brothers and sisters in Barming?

I won't be here forever
(but it would be nice to see man step on the Moon once more) and surely Stewardship = Guardianship = Caretaker for the next generation.

Think, and pray.
See if you can commit the price of a pie and a pint (or a packet of fags) to the Lord's work. Remember, a small weekly increase from all of us could prevent an end of year panic!
Ways of giving
| | |
| --- | --- |
| Weekly offering | Committing yourself to a regular offertory sum through the 'envelope' scheme. |
| Gift Aid | If you pay income tax, St Andrews can recover the tax on your giving as an extra donation. |
| Time and Talents | They also serve who mow the grass or clean out the gutters. You can let us know the things you are willing to help with by filling in a Time and Talent form. |
| Legacies. | A bequest can be made "After you've gone". Advice and informative literature is available at a website dedicated to the making and revising of wills |
Forms