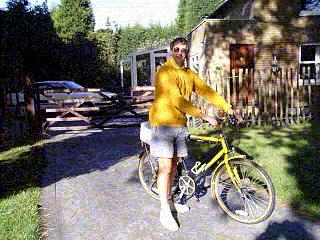 The 40th Kent Cycle ride
in aid of the ' Friends of Kent churches' takes place in days on September 10th . Note it in your diary, carve it on your calendar. If you own a bicycle then pump up the tyres and oil the Sturmey - Archers. You can be sponsored for cycling, walking or using a wheelchair to tour as many churches as you can between 10:00 and 18:00.
Collect your sponsor form at the Church.
Increase the value of your sponsor's contribution.
Have them tick the 'GIFT AID' box on the sponsorship form and ensure that they have entered their name and address. This will enable us to retrieve the income tax paid on the gift amount.
History of the Event
The Idea began in Suffolk in 1982 and every year since then an increasing number of counties have joined in. The event now encompassess 30 counties. More than £21 Million
has been raised to help restore and repair the buildings that are part of our Christian Heritage. In Kent last year we had over 750 participating churches and chapels. The Kentish riders, walkers and welcomers raised £135,190