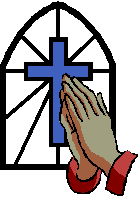 Please Pray for:


In Hospital
Andy
At Home
Danielle,John
Margaret,Fran
Shanti
Claudette, Bob
The Departed
John, Angela
Heather (Memorial Service)


A Prayer from the Church of England
Almighty God,
who through your only-begotten Son Jesus Christ
have overcome death and opened to us the gate of everlasting life:
grant that, as by your grace going before us
you put into our minds good desires,
so by your continual help
we may bring them to good effect;
through Jesus Christ our risen Lord,
who is alive and reigns with you,
in the unity of the Holy Spirit,
one God, now and for ever.
Amen.

This week's prayers:-
Hold in your hearts the victims of violence everywere and pray for peace.

Pray for those affected by disaster, weather and those in peril on the sea.



Request the Father's healing grace for those in Hospital or recovering at home.


Support with your prayers those who are coping with grief or bereavement.

Pray for practical solutions for the Homeless, Hungry and Helpless.



A Lenten Challenge
Dear people of St Andrew's Church, On 2 March, Ash Wednesday, we entered Lent this year which will end on April 17 with Easter Day.
It has been the custom of the Church through the centuries to accept a Lenten Challenge for this period of 40 days - and I would like to set one for you all this year. My challenge is that, instead of giving up biscuits, chocolate or alcohol, you might give up criticising others during Lent. It might sound easy but I can assure you that, if you are anything like me, it is really quite difficult! It is all about separating 'the sinner from the sin'. A sin, or wrong doing, is always wrong.
But Jesus taught us that God loves us so much, that he goes on loving us even when we get things wrong, and he longs for us to change.
God wants us to show this sort of love to others even when they do things wrong.
It is all about trying in our minds to separate the person from the sin - the wrong they do.
Loving might be a tough ask, but I wonder if we could start this Lent by not criticising others, not repeating to anyone else what wrong they have done and certainly trying not to dwell on it.
Sometimes it is not so much a sin that someone has done - we just find some other people irritating and annoying!
Perhaps this Lent we could try really hard not to share with others how difficult we find some people and just why that is so.

Please take up this challenge - but don't give up when you fail and realise you have just criticised someone or repeated something bad (however true) about someone. Just say silently, 'Sorry God', and go on trying. This is how we change the person we are to become more and more the person God wants us to be.

Good luck! I shall be praying for you and me that we get better at this as the days of Lent go by.
Liz. Rev Canon Liz Walker, Supporting Priest at St Andrew's.

Pray for someone that you know.
If you feel the need for prayer for yourself, or someone you know or you would like a name added to the Prayer List used during our Services. You can Email a request to our intercessors at prayers@standrewsbarming.co.uk .
Please indicate whether they should be mentioned as "In Hospital", "At Home", or "In Rememberance".
We will only use their Forename and will not mention the reason for their inclusion unless you specifically ask for that.

Prayer Box
We have placed a locked box in the Hall so that you may ask for prayer. Only the Ordained Clergy have access to the key. Requests will be used at "Morning Prayers" and then the note will be offered to God and shredded to maintain confidentiality.

Home visit
If you know of someone in need of a home visit or other pastoral care then please fill in a request slip (At the back of the Church)and give it to John Sweetman (01622 728233).