"Anyone
Looking
P erplexed
Here's
Answers"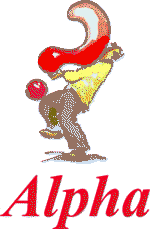 The Next course starts on 26/02/2018 at 19:00
Alpha courses are designed to help people learn more about the Christian Faith. They are not complicated and offer fellowship and fun as well as learning. Courses involve watching videos, discussion and prayer in a friendly environment, often in someone's home as a social event.

Our Church has run several Alpha Courses and also the 'follow up' course - 'A Life Worth Living'.


A typical timetable for one of our ALPHA evenings is
7:00 pm Informal Supper
7:40 pm Welcome and viewing of books and tapes on Alpha.
7:50 pm Worship.
8:00 pm Alpha video.
8:45 pm Coffee / Tea / Hot Chocolate.
9:00 pm Group discussions.
9:45 pm End of the evening
Courses last for eleven weeks and include an awayday on one Saturday. You do not have to come to all ten to benefit from the new ideas and friends you will encounter.
If you wish to take part in an Alpha course, or know anyone who would be interested, please contact Rev Barry or Rev Chris for more details and to book a place on the course.